ELECTRIC MOTOR OPTIONS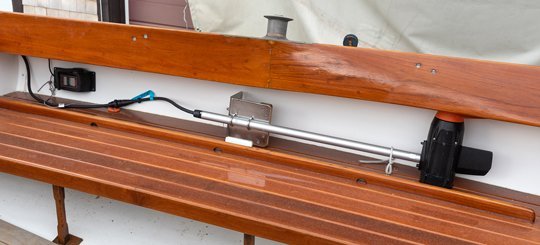 A lightweight, effective and better smelling alternative to a gas outboard motor.
As with all areas of yacht design, integrating auxiliary power is a compromise between form and function. Often, the most desired features and abilities of one system are overshadowed by the drawbacks of cost and actual real- world results. These problems are only increased when working within smaller, more traditional designs when much of their beauty is their simplicity.
The complications of small gasoline outboards kept us from recommending them for our customers, especially with the Stuart Knockabout. The motor's size, weight, and bulk made installing these troublesome and dealing with a hot and greasy motor when ready to sail was a major roadblock.
Efficient Outboard Power
A number of years ago Torqeedo introduced the Travel Series of self-contained electric outboard motors. The advancements in lithium-ion batteries reached the point where their useful range and charging times made them a sensible option at a reasonable cost. At just over thirty pounds, the entire motor and battery can be easily attached to our side mounted bracket for temporary power. If a lighter package, nearly zero maintenance, and eliminating the risk of fuel or oil spills is not enough to convince you to chose electric, Torqeedo also engineered additional features into this series like a water-proof design, floating batteries, and integrated GPS technology.
We highly recommend the Travel 1103C, coupled with our side mount engine bracket, for intermittent use or emergency propulsion. Sometimes you need a little extra help getting from the dock, off a mooring, or to the starting line.
Streamlined Outboard System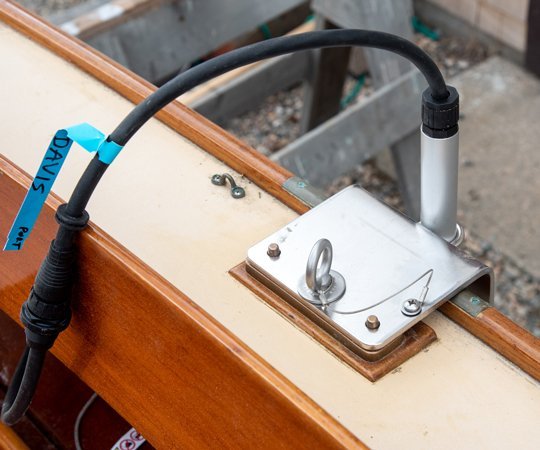 We have taken the already easy to use package of Torqeedo's Travel series motor and refined the system even further. We now offer a lighter, easier to deploy Travel 1103C variant developed here at Ballentine's Boat Shop. This kit reduces the unnecessary hardware in a standard Torqeedo motor and mounts the unit directly to our custom, side mount engine bracket. With a single locking screw, the motor can be set into place and made ready for use.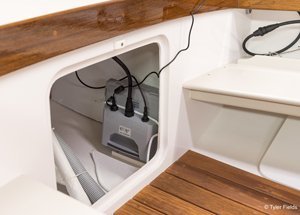 Further reducing steps from storage to getting underway, we mount the battery inboard and utilize a remote throttle control, instead of the standard tiller. This allows cables and gear to be stowed out of the way and only the motor itself required to take on and off the deck plate when switching from power to sail or vice-versa.
The streamlined option makes auxiliary power in a Stuart Knockabout nearly effortless and increases the efficiency and usability for the operator.
Torqeedo Cruise 2.0 Pod Drive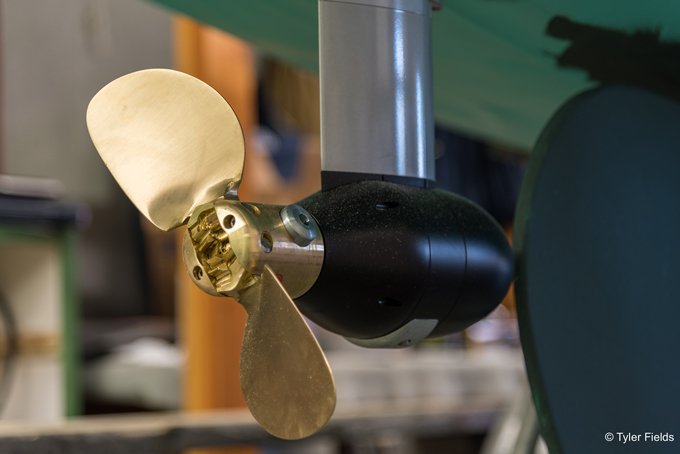 The Torqeedo Travel series motor is an excellent option for most of our customers. However, some Stuart Knockabout owners need a bit more power for a longer duration. After years of research, we found a company that produces a product fitting our specific needs. We now offer the Torqeedo Cruise pod drives as an option on both new Stuart Knockabouts and as an upgrade for existing boats. The Torqeedo pod system is a proven design and offered by many of the marine industry leaders.
The robust motor provides us with clean, reliable power on- demand. Each installation can be customized to the owners needs regarding system range and charging methods. Charging from the dock can be quick and efficient. However, innovations in solar panel technology give us nearly endless options for charging and the ability to be free from shore-side attachment.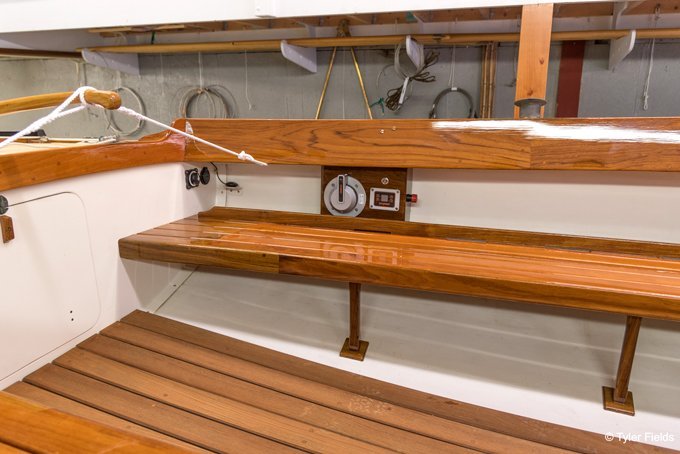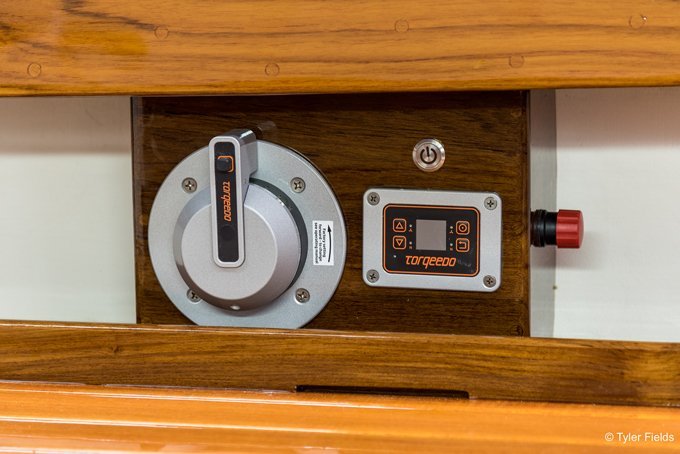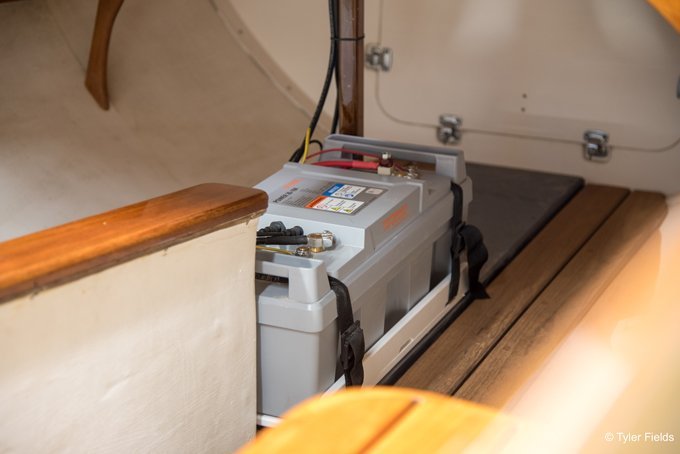 Standard Side Motor Mounts
For those who already have a motor and need a safe, secure and comfortable engine mount solution, we offer two sizes of side mounts. These are built of high quality Stainless Steel and Bronze by Edson Marine here in New England. The use the same single screw for securing the bracket to the deck plate as our streamlined system.
The size difference is with the distance inboard the deck plate is mounted, normally making an allowance for a toe rail.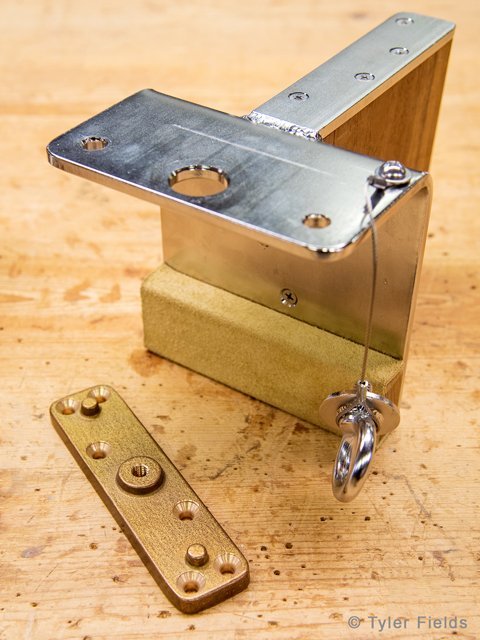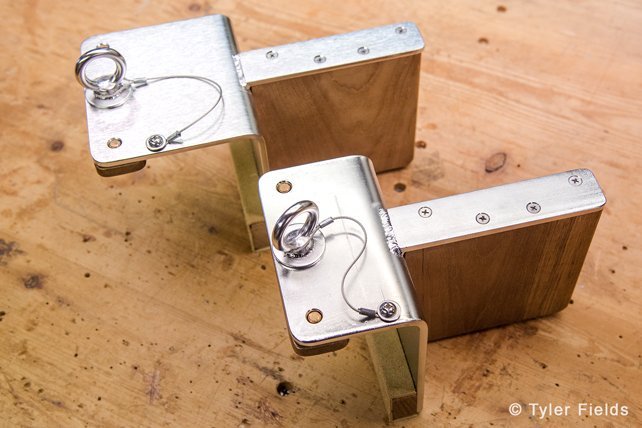 Visit the Torqeedo Web site.
---
FOR A QUOTE, please call 508-563-2800.
Whether you need infrequent power and the just-in-case piece of mind or long range, on-demand, capability, we can tailor fit a system to meet your needs.
If you would like more information about the Electric Motor Options for your Stuart Knockabout please contact us via Email or call 508-563-2800.
---