The Restoration of BEN...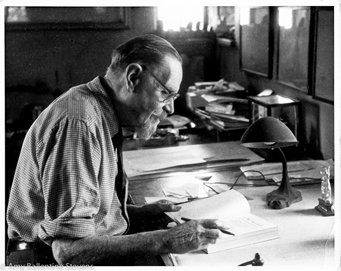 History and Background
L. Francis Herreshoff designed this stunning boat in 1932 for Mr. Willoughby Stuart. Her plans are entitled 28' Knockabout - Design No. 53. Mr. Stuart's boat was built in 1933 and named BEN MY CHREE*, Gaelic for "darling of my heart", BEN for short. He took her to his island home on Casco Bay, Maine, built a boathouse and railway for her, and she remained in the area for over 40 years, enjoyed by him and his family.
No true sistership ever followed, perhaps because the boat was kept in relative obscurity, or because for some time the country was in hard times and customers for yachts were few and far between.
William G. Harding, an avid sailer and racer of classic Herreshoffs who had been constructing the Herreshoff 12 ½ in fiberglass (the Doughdish) for 15 years, came upon BEN some 55 years after her construction.
In the mid 80's Bill Harding found her in a barn on the North Shore of Massachusetts. It was then owned by Mr. Stuart's grandson. Bill fell in love with her, bought her and set about on a project to build her in fiberglass.
I found Mr. Stuart's boat in the summer of 1984, then owned by his grandson. She was sitting idle in a boat yard. It was like love at first sight. She bore a composite resemblance to other familiar Nat Herreshoff "classes", but she also obviously was not one of them. My curiosity led to identification of her origins. I took possession of her and spent four interesting years sailing her with more than just a notion she'd be a great candidate to be reproduced in fiberglass. (~ Bill Harding)
Mr. Harding used his experience with building the Doughdish to start constructing Design No. 53, which he named The Stuart Knockabout after the original owner's of BEN. As with the Doughdish, he subcontracted Edey and Duff to do the construction. Ballentine's Boat Shop did the finish, and together they built and sold 76 Stuart Knockabouts. Some boats now hail from as far as California, Texas, Montana, Nassau, and New Brunswick, Canada. Many others remain relatively local and about 12 are still currently in the care of Ballentine's Boat Shop.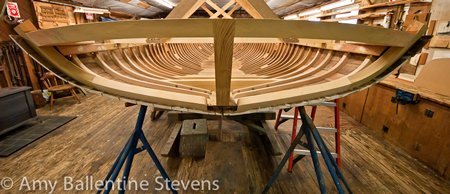 Years later, she came back to Ballentine's in need of a restoration. We are excited to have brought this classic and historical boat back to her original glory.
*BEN MY CHREE is a scottish dialect in the more common Irish Gaelic it is spelled: Bean Mo Chroi.
---
In 2013, 80 years after her completion, Ballentine's Boat Shop fully restored her. It took two years but she is as lovely as ever and should live to see another 80 years. Great care was taken to restore her to her original specs and L. Francis Herreshoff's plans.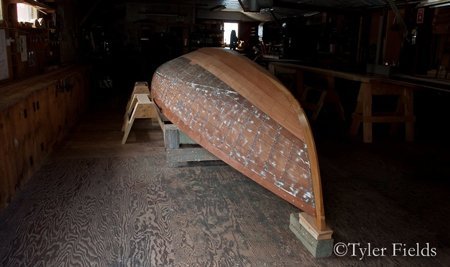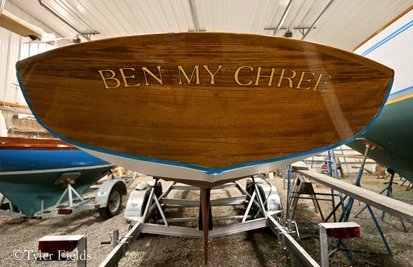 ---
Restoration of the Original: SK Design No. 53
Click any thumbnail to start and auto-play the slideshow; use cursor to pause/play, arrow keys or finger swipe on mobile to advance or see previous images. Click anywhere (off image) to return to web page.
Find more images in "BEN's" Facebook Album.
---
GOOD NEWS! October, 2016 - Stuart Knockabout and Ballentine's restoration of BEN MY CHREE are the cover story for this month's Classic Boat Magazine - Get your copy HERE!
---
BEN MY CHREE and Ballentine's Boat Shop are honored to have been awarded 1st Place for Best Professional Restoration Sail during The 23rd Annual WoodenBoat Show Concours d'Elegance.
The weather was perfect during the 3 day show at the Mystic Seaport Museum and we couldn't pass up an opportunity to get out on the water. Follow the link below to see her video!
We want to thank WoodenBoat Magazine for hosting a great event. We want to especially thank Andy Giblin and the whole crew of MP&G for taking excellent care of BEN during her stay in Mystic.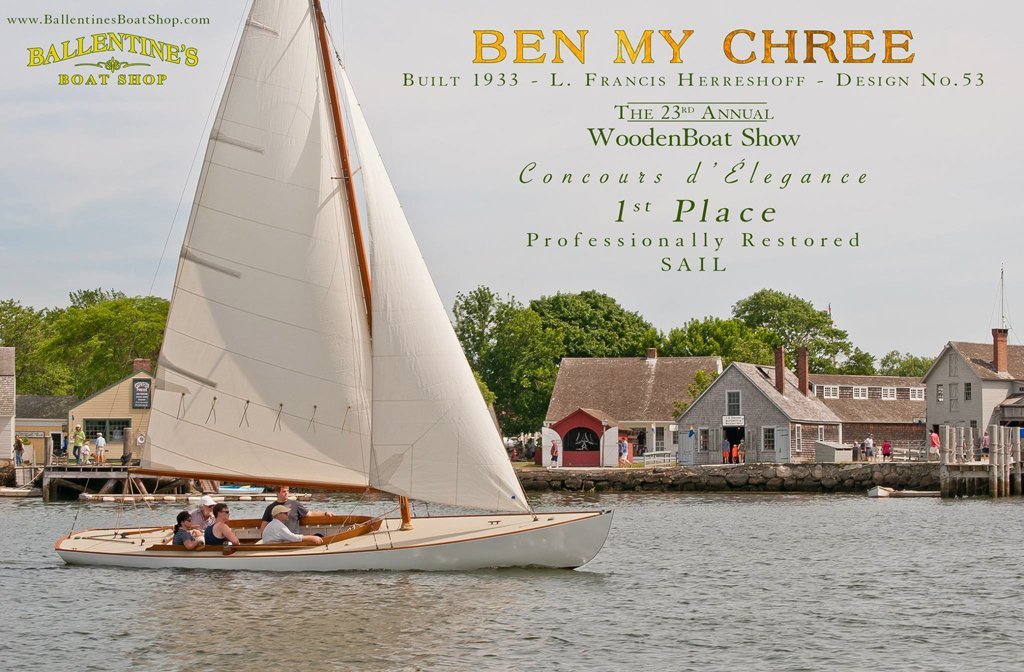 ---
---
---