SKs For Sale: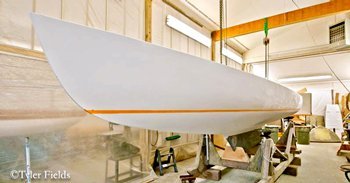 While brokerage is not our main focus, we do offer a limited inventory of classic boats and special vessels. In most cases, the vessels we represent have been maintained here at Ballentine's Boat Shop or are of special quality, design or history.
Our listings, both sail and power, cover a wide range of styles and abilities. From small, classic daysailers to capable offshore passagemakers. After more than 40 years in the industry, we have the experience and knowledge to help buyers and sellers through the process and to help our vessels find the right next caretakers.
Stuart Knockabouts are currently being built at Ballentine's Boat Shop and are available to order with customizing. These boats fit perfectly in a 40' container and can be shipped anywhere in the world.
PHRF Racing and Class Racing have developed in recent years and if you are a Yacht Club or interested in multiple boats, please ask us about Fleet Pricing. Contact us with any questions. 508-563-2800
---
Stuart Knockabouts For Sale:

---
GRIFFIN SK No. 54 - $ 67,700.
SK54 comes well equipped with 2 sets of sails (Doyle and Harding Sails), sail covers, updated running rigging, electric outboard, and a custom Triad Trailer.
---
WHISPER SK No. 48 - $ 74,000.
Whisper was given a thorough rebuild in 2017 including new book matched Teak coamings, toe rails & rub rails, hull topsides re finished with gel coat, bottom fared and barrier coated, new sails.
---
WYVERN SK No. 5 - $ 50,000.
She remains in good condition and would make a great option for updating to your idea needs. WYVERN has been professionally maintained and stored indoors during the off seasons.
---
OL' BEAR SK No. 12 - $ 62,000. Price Reduced!
Ol' Bear is SK12 and was built by Edey and Duff in 1992. While she is an older hull, she has been well maintained and updated by her current knowledgeable owner. Recent projects included: repainting the deck, fresh varnish on all brightwork, refinished seats, built under deck shelves.
---
HENRIETTA SK No. 39 - $ 65,000.
HENRIETTA, SK39, was built in 2000 by Edey and Duff of Mattapoisett, Ma. And she has been well maintained by a professional yard on Buzzards Bay since purchase. However, there is some minor damage to the bow that we would recommend having addressed. SK39 is priced well by a motivated seller.
---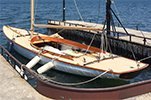 SPRAY SK No. 068 - $ 75,000.
SPRAY is Stuart Knockabout No. 68 built in 2006 and has been thoughtfully maintained; fully equipped including a nearly new spinnaker and gear, genoa, cockpit cover, Torqeedo 801 outboard, and a custom Triad trailer purchased in 2012.
---
Superyachts & The Stuart Knockabout
Best of Both worlds
Superyachts clearly have their positives, you can go anywhere there is depth, you are always comfortable and you are seldom at the mercy of the sea. But, sometimes there is a little less intimacy with the elements, there is no substitution for a quiet evening sail where you can have unimpaired interaction with the wind, water and sun. To help get the best of both worlds, the owner of one Luxury Expedition Yacht rigged a Stuart Knockabout on the deck to use in port. Superyacht SEAWOLF is an impressive and historical Excursion Tug that has been converted to be a luxury yacht, she has a varied and interesting history, it is highly appropriate that the Stuart Knockabout, also with an interesting history, is her chosen companion.
On deck storage
SEAWOLF's Stuart Knockabout rests fully rigged in a custom cradle on the back deck. In order to go for a sail, the crane launches the daysailer and she is instantly ready to use. With her centerboard, the Stuart Knockabout can easily sail closer to shore, allowing exploration of areas that the mother ship can not. It is also a perfect opportunity for quiet and solitary reflection.
Superyacht SEAWOLF is a Luxury Expedition Yacht that is used for Five Star Leisure & Adventure charters. For more information on this luxury yacht visit SEAWOLF - Luxury Expedition Yacht.